Multifunction Food Choppers
$33.99 USD$48.99 USD31% off
The Easy Food Chopper Is A Must Have In Every Kitchen!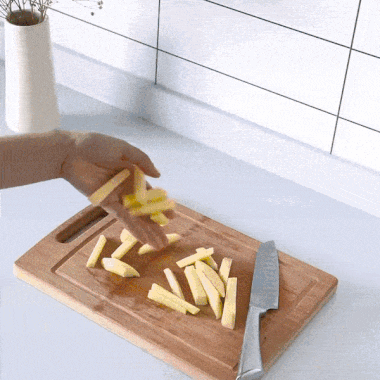 If you are serious about cooking, you should own a Multi-Function Food Chopper.
This wonderful kitchen tool will be one of your favorite kitchen helpers.
FEATURE
The vegetable chopper has 4 blades to meet your needs for cutting vegetables in various shapes.
Made of rust-proof and durable stainless steel, which can maintain the sharpness of the blade and realize clear and smooth cutting and grinding.
The food dicer has a built-in drain basket, you can put the washed vegetables into it.
The vegetable cutter provides an effective hand guard to prevent accidental injuries to fingers.
After use, all blades can be stored in the top cover of the chopper.
The vegetable slicer can easily chop various vegetables and fruits, and can also be sliced.
For example: onions, mushrooms, cucumbers, carrots, potatoes, tomatoes, ginger, garlic, etc.
SPECIFICATION
Main Material: PP, ABS, Stainless Steel
Color: Navy Blue/Sky Blue/Gray/Pink
Size:
PACKAGE INCLUDE
1 * Multifunction Food Chopper
✔️ Cutting Board
✔️ Drain Basket
✔️ Bottom Basket
1 * Hand Guard
4 * Blades (Thick Wide, Flower Piece, Filament, Flakes)
GET YOURS NOW!